Is it time for a new evolution of wise storytelling? We think it is. Stories that challenge the way we think about mental illness. Stories that give a human perspective on the facts. Facts like:
In any given year, 1 in 5 Canadians experiences a mental health problem or illness.
Up to 70% of young adults living with mental health problems report that symptoms started in childhood.
Percentage of people who are depressed who respond well to treatment — 80%
Percentage of people who are depressed who never seek treatment — 90%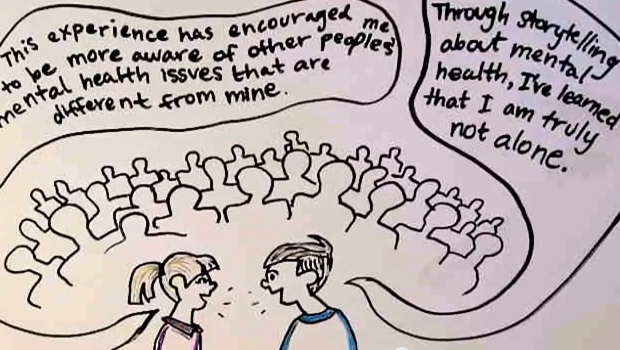 Screenshot from the amazing PSA — coming soon!!
In the coming weeks NEWS and RainCity Housing will be launching a website that will share stories, start conversations and connect people that have lived in isolation. Come back to this site for the link or look for it on our Facebook page or Twitter feed.
We ALL need your voice to fight stigma. The only way we can make real change is to do it together.
Tomorrow is the last day of an exhibit that shows just some of these stories. March 1, 11am to 6pm at Vivo, 1965 Main Street.