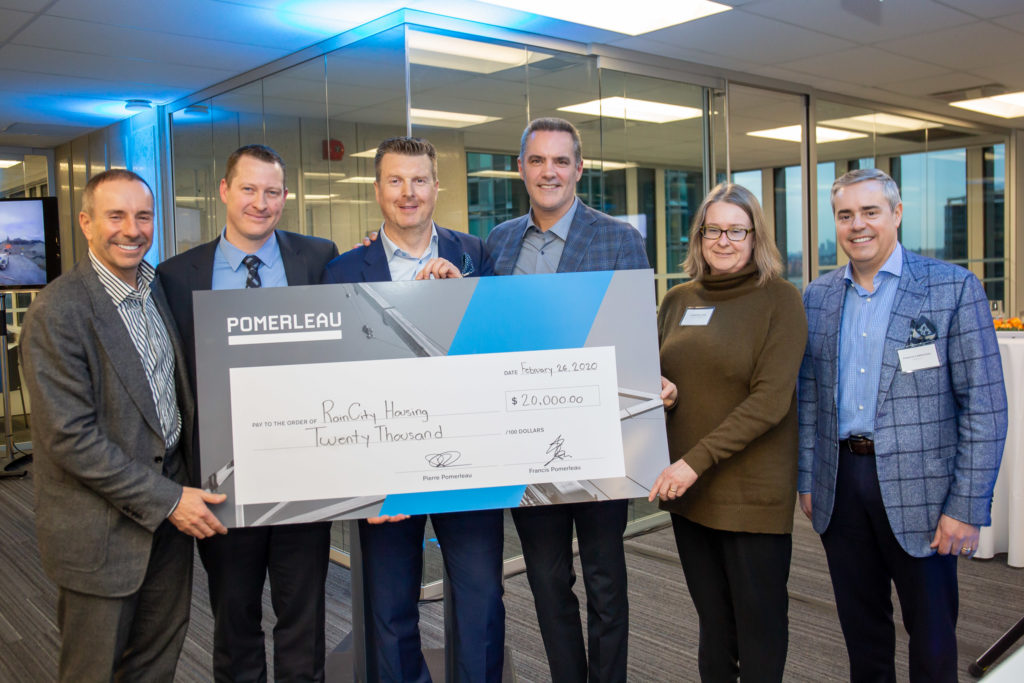 This past Wednesday RainCity was invited to attend Pomerleau's grand opening of its new office in Vancouver. Pomerleau showed attendees how they develop and adopt innovative technology by providing virtual reality goggles for an exclusive walkthrough experience of some of Pomerleau's key projects. Bill, our Fund Development and Comms person, tried the VR goggles and we're happy to say he didn't faint.
At the event Pomerleau presented us with a HUGE cheque – both in size and dollars – for $20,000! We were selected by the employees of this new Vancouver office as part of an internal contest. It feels wonderful that the people who work and play right here in Vancouver got to choose a Vancouver based non-profit! Thank you, Pomerleau!!
Gordon R. Mann, Senior Vice President, Construction, shared how important it is for Pomerleau to be giving back to the communities where they work.
"Establishing ourselves in the BC community means more to us than just doing business. It also means giving back and playing a key role in making our community a better place. The special alignment between RainCity Housing and Pomerleau's values were key to our employees' choice, and we couldn't be prouder to support them as they strive to reach new heights," concluded Mr. Mann.
We hope to live up to their support. And while it may seem strange to hear someone say that the values of a non-profit align with a large corporate construction company, it's true! Like them, we work closely and creatively with people, are able to adapt to new situations, and determine the best solution for each person's unique situation. It's important to both organizations to establish strong relationships with people we work with in order to build trust and earn respect. And we both seek ways to innovate how we do our work in order to contribute to more positive outcomes throughout our respective sectors.
Two entities, different sectors, but both trying to provide the best possible work, support and service that they can.