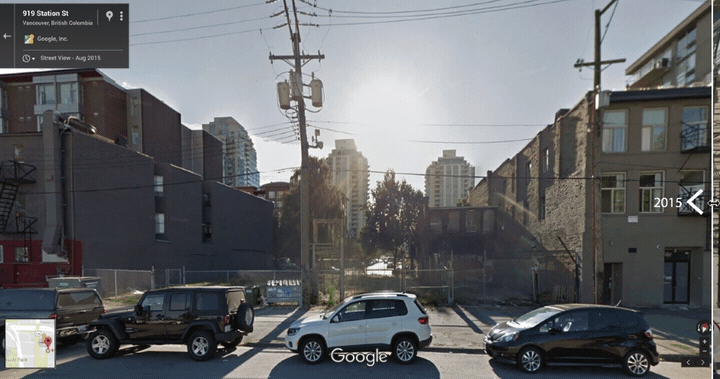 Today we've launched our campaign vancouverstreetview.ca, an interactive site where you can see how homelessness has increased in the Greater Vancouver Area.
The technology allows users to toggle between Google Street View images taken in the last four years and see how the number of people identifying as homeless has increased across Metro Vancouver. The initiative launched this week as modular housing becomes available for those living on the street in one of the campaign's highlighted areas, 135A Street in Surrey.
The City of Vancouver's latest homeless count found an increase of 2% since last year, marking a 21% increase in those identifying as homeless since 2014. The most recent stats from Metro Vancouver show a similar story, with a 30% increase in homelessness between 2014 and 2017, as determined during last year's Metro Vancouver Homeless Count.
"After almost 15 years in this field it's become clear that the longer we leave people outside, the more ill they become. This makes it more difficult for people to transition back inside, and there's more trauma they have to work through once they do. We need to act quickly and respectfully stop this from happening to any more of our neighbours," says Aaron Munro, our Associate Director, explaining the importance of people coming back inside.
Researchers say the actual numbers can be up to three times as high as the 24 hour Vancouver count, due to people staying with relatives, couch surfing or just being really hard to find. This year's Vancouver count also found that more than half of Vancouver's homeless population have been homeless for less than a year.
Aaron Munro continues, "The Google Street View images in our campaign, much like the homeless counts, are just snapshots in time of a much larger issue. The campaign images show homelessness in the Greater Vancouver Area is changing our cities, but that there is a solution in providing affordable and social housing, and we need to show our support around it. People who are supported in housing by RainCity have access to supports and live in places that are safer and more secure than remaining homeless."
We hope our "Vancouver Street View" campaign will get people to contact their local municipality to show their support for social housing in their neighbourhood.
Will you write to your municipality?